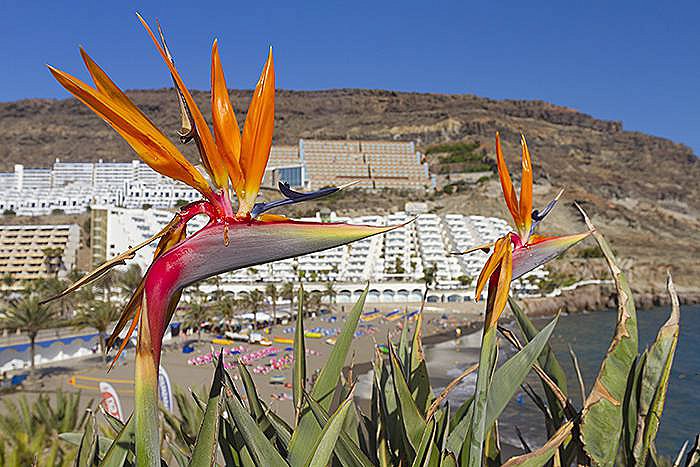 There are over 80 beaches in Gran Canaria but most visitors only go to the famous ones like Maspalomas and Amadores. If you feel like having the beach to yourself for a change, here are our favourite small beaches in Gran Canaria.
Tiritaña
Tiritaña feels as rugged and remote as Güigüi on the west coast. However, it's just a few minutes walk from the road rather than a three-hour hike. You'll have the rocky shore to yourself or have to share it with the resident hermits.
With deep, clear water and beautiful cliffs Tiritaña is where you can live out your Robinson Crusoe fantasies for a day before heading back into town for a cold beer.
Tiritaña is between Tauro and Puerto de Mogán. Parking is up by the road and the rough hike down to the beach takes about 15 minutes. Take supplies. Clothing optional.
Taurito
Taurito beach is the most tropical-feeling beach in Gran Canaria thanks to the flowers along the promenade and the palms on the sand. The little resort is popular for its swimming pools and water slides but the beach is rarely crowded. It's a good spot to sit in the shade and enjoy a cool drink right by the sand.
Taurito is between Puerto Rico and Mogán. Parking can be difficult unless you use (and pay for) the underground car park.
Medio Almud
Little Medio Almud beach has calm, crystal clear waters and is as a peaceful as it gets. There's always plenty of room and during the week you may be the only visitors. Take all supplies as there are no facilities. Clothing is optional.
Medio Almud is between Tauro and Taurito. You can drive right down to the sand on an old access road.
Arguineguín
Arguineguín beach is inexplicably under the tourist radar. Maybe it's because the sand is volcanic and dark rather than golden. Whatever the reason Arguineguín beach doesn't get the crowds that you see on Anfi and Amadores and consequently has a much more local feel.
The beach is fantastic for swimming and from the sand you can see the harbour and across the bay to Anfi. Arguineguín's restaurants are great value and the beach and town are well worth a day trip.
Mogán
Mogán beach may be small but it's one of the island's most popular stretches of sand. With calm water, plenty of cafes and restaurants along the promenade and stunning Mogán Marina next door it's easy to understand why.
To get Mogán beach to yourself head over at dawn and watch the sunshine light up the pretty houses in the port. Most people don't make it to the beach until after 10.00 am.
What's your favourite little beach in Gran Canaria? Let us know with a comment and we'll add it to our next beachy post.