31 Jul 2017
Gran Canaria Property Area Guide: Arguineguín Town
Published in Buyer tips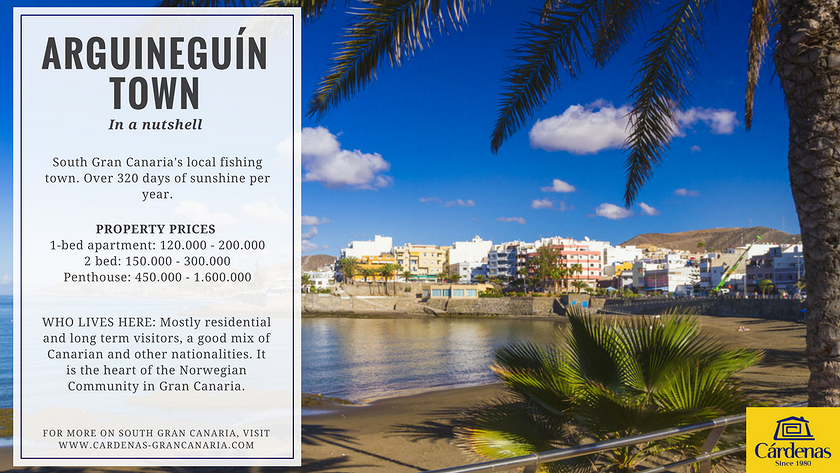 If you're looking for a place to buy in south Gran Canaria, but don't want a typical resort property, look no further than Arguineguín. 
Why Arguineguín town is such a popular property hotspot
If you look at a map of south Gran Canaria from before the 1960s when tourism took off, Arguineguín was the only sizeable town on the entire south coast of the island. And while the resorts grew around it, it remained as a local fishing town. This authenticity made Arguineguín the place for people looking to spend their winters in Gran Canaria. And while the influx of Norwegians and other winter visitors has changed the place, it hasn't swamped it. Its harbour is still home to a fleet of traditional fishing boats, and it celebrates local fiestas the way it did before Gran Canaria became a destination. This is the big attraction of Arguineguín; it's still a local town as well as a hotspot for foreign buyers and visitors. Yes, it's got lots of cafes and restaurants by the sea, its own beaches and natural pools, and a busy Tuesday market, but Arguineguín still has that desirable local feel that's missing from south Gran Canaria's resorts.
Where is Arguineguín town
Arguineguín is on the south-south-west coast of Gran Canaria about half way between Maspalomas and Puerto Rico. It's well connected to the rest of the south via the GC 1 motorway (about 40 minutes drive from the airport) and the GC 500 coast road and has excellent bus links to both Playa del Inglés, Puerto Rico and Mogán. In fact, it's pretty much central; which is why it was the area's biggest town back in the old days. Arguineguín is also right in the bubble of sunshine that makes south Gran Canaria one of the sunniest places in the whole of Europe with over 320 days of blue skies every year. It's also far enough around the coast to be sheltered from the east coast winds that sometimes affect Maspalomas and Playa del Inglés.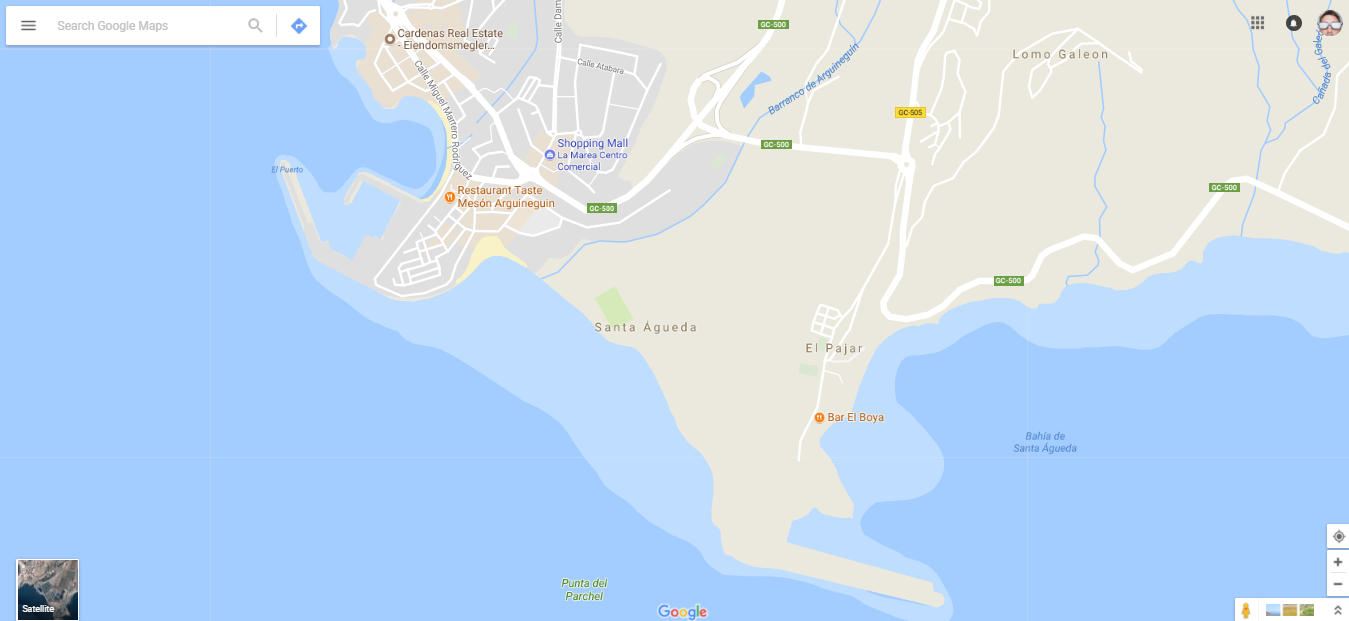 What's in Arguineguín town?
The original fishing town faced the sea on both sides of a rocky headland. The fishermen used to keep their boats on the beaches because it was the easiest place to launch them into the water. Nowadays, the boats are kept in the harbour and the beaches are used for sunbathing and swimming. The biggest one, Las Marañuelas, is a volcanic sand beach that faces west with views towards Anfi beach and even to Tenerife's Teide volcano on the horizon. Arguineguín town also has a lovely natural pool and small beach at La Lajilla just west of Las Marañuelas. These are connected by a coastal promenade that carries on all the way past Patalavaca beach to Anfi beach with its coconut palm trees and white, Caribbean sand. As a local town, Arguineguín has lots of small shops and cafes as well as local fish restaurants. The Fishermen's Guild even has its own fish restaurant right by the harbour. Of course, modernity hasn't passed by completely; Arguineguín town has everything you need on a day-to-day basis within easy walking distance: A big Spar supermarket right by the beach (which sells ice cream, cold wine and lots of international goods), two shopping centres on the inland side of the GC 500 road, a good petrol station and even a Spar Natural organic food shop. The town's foreign population means that it also has plenty of places that cater to international tastes; everything from open sandwiches and wood-fired pizza to upmarket tasting menus.
Property in Arguineguín town
There's a great mix of property in Arguineguín town, from old fishermen's houses overlooking the harbour to smart new apartments on the beachfront and residential flats in the streets between the road and the sea. Prices range from just over 120,000 euros for a one-bedroom apartment in town, up to well over a million euros for a modern penthouse apartment right by the beach. Prices per square metre in the original parts of Arguineguín town tend to be lower than in resort areas that are as close to the sea. For example, you can buy a three-bedroom apartment just a couple of blocks back from Las Marañuelas beach from around 170,000 euros. Back from the sea, in the first area of Arguineguín to be developed for tourism, there are lovely bungalows (built back when space wasn't an issue) with gardens and large sunny terraces. They are in high demand because properties like them just aren't built anymore in south Gran Canaria. If you want a more luxury property, there are modern beachfront penthouses with big terraces and sea views that were built in recent years to Scandinavian standards.
The future of Arguineguín town
Arguineguín town has grown significantly in the last 20 years but most of the development has been quality and has happened back from the sea in areas like Loma II and Los Altos. The changes haven't affected the character of the old parts of town close to the sea. However, Arguineguín is going to change (very much for the better) in the coming years. The entire seafront walkway that connects the town to Anfi beach to the west is scheduled for a complete overhaul. The harbour is also getting a major refurb with the fishing fleet and the recreational boats to be separated into two different areas. This will connect the beach to the new marina and make the harbourfront a much nicer place with more seafront cafes and restaurants. There are also well-advanced plans to improve the coast just east of the town with a series of natural swimming pools and lido areas.