03 Apr 2018
Gran Canaria Property Area Guide: Loma Dos, Arguineguín
Published in Buyer tips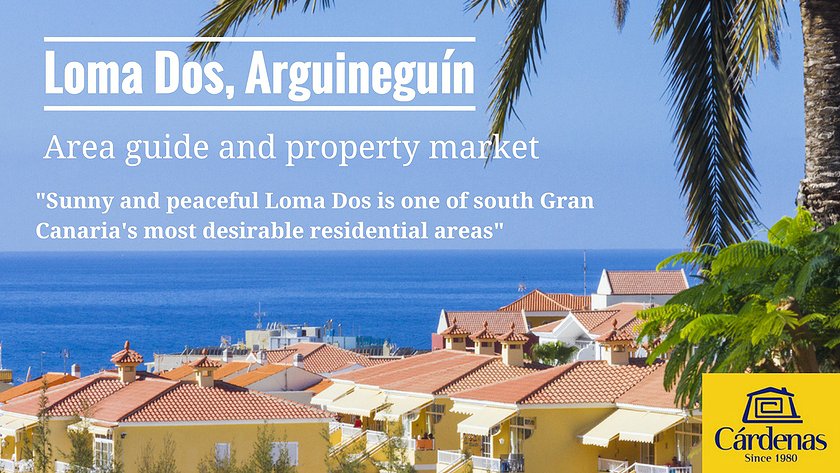 Upmarket Loma Dos is a quiet housing estate in south Gran Canaria's sunny seaside town of Arguineguín. 
Why Loma Dos is such a popular Gran Canaria property hotspot
Loma Dos has a number of major benefits. It is close to the centre of Arguineguín but is peaceful and has little traffic. Most properties face the sea and get sunshine for a significant part of the day.
Almost all property here was built within the last 30 years to modern standards and with features attractive to foreign buyers. For example, houses and even apartments in Loma Dos tend to be large and have parking spaces. Many have outside space such as a terrace or swimming pool zone.
Another advantage is that it gets the almost constant sunshine that makes south Gran Canaria famous. However, the area is residential and doesn't have the bustle of nearby resort areas such as Puerto Rico.
Where in South Gran Canaria is Loma Dos
The Loma Dos property area is just inland of Arguineguín's town centre. It is within easy walking distance of the coast and the town's beaches and amenities. It faces south-west with views out over the town and the ocean and gets sunshine throughout the day.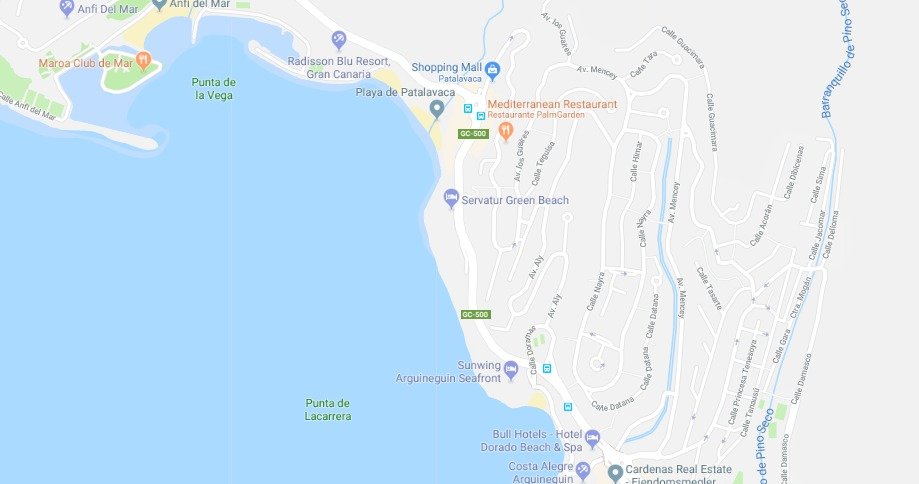 Loma Dos, Arguineguin map
What's in Loma Dos
Loma Dos is a residential area and is close to a couple of quality restaurants in Los Altos de Arguineguín and Patalavaca. There are plenty more places to eat and lots of shopping options in Arguineguín town.
Arguineguín's main square and church are right next door, as is the town's health centre and it's modern La Marea shopping mall.
Property in Loma Dos, Arguineguín
Loma Dos property is a mixture of villas, semi-detached houses, terraced houses and large apartments in small condominium buildings, mostly surrounded by hibiscus and bougainvillea hedges. There are also some highly-sought-after bungalows.
Property prices in Loma Dos start at €225,000 for a one- or two- bedroom apartment. A large two-bedroom apartment with outside space and access to a swimming pool will cost you up to €400,000.  Terraced and semi-detached houses go for between €250,000 and €500,000 depending on size, features and view. Chalets and villas start at €450,000 and the most luxurious property sells for up to €1.300,000.
See a selection of the best property for sale at Loma Dos.
The future of Loma II
Loma Dos is a popular property area with both foreign, and especially Norwegian buyers. Canarians living in south Gran Canaria also value it highly. It is ideal for a coastal holiday home in the south Gran Canaria that isn't in a resort.
The area is quiet and this is unlikely to change as there isn't much room for further development. Strict local rules restrict any high-rise building.
Arguineguín town itself plans to extend its harbour with a new recreational marina, seafront restaurants and shops. The pedestrian walkway that goes from Arguineguín to Anfi is also being renovated in stages. The first stage of this project, the renovation of the La Lajilla natural pool, has now been finished.
Cárdenas Real Estate in Arguineguín
With three offices in town and almost 40 years of local experience, we are Arguineguín's leading estate agency. Please feel free to contact us if you have any questions about property in Arguineguín or south Gran Canaria in general.