28 Feb 2020
Gran Canaria Property Law: Hidden Defects And Your Legal Rights
Published in Buyer tips, Legal & Tax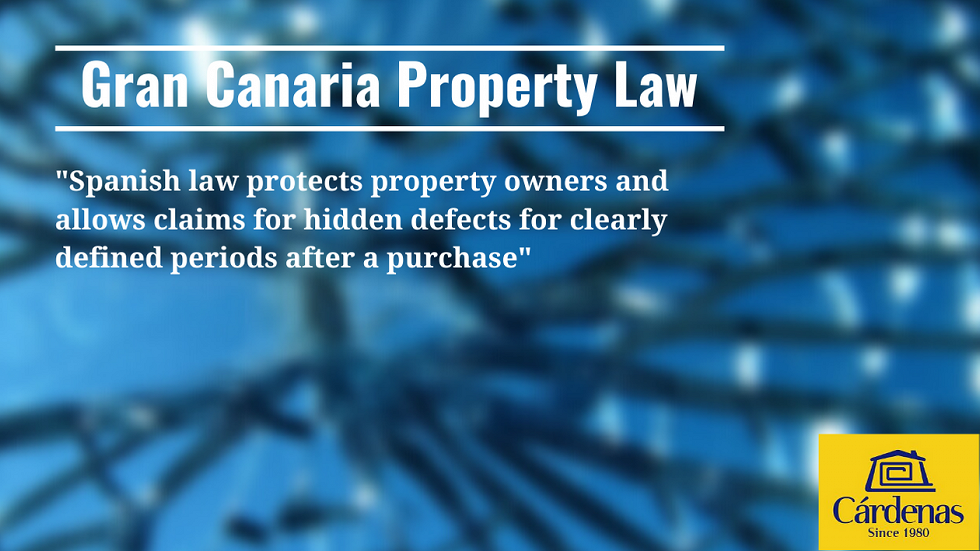 If you buy a Gran Canaria property and find hidden structural or other defects, here are your consumer rights.
Spanish law makes different provisions depending on whether you buy a second hand property or a new build.
For a second-hand property (as opposed to a new-build property)
Hidden defects. If you buy a property from a previous owner and defects subsequently appear, you can claim against the seller (and request a price reduction or the cancellation of the sale contract).
Hidden defaults are those that cannot be observed directly during standard property visits prior to the purchase. However, you cannot claim if your job or profession (architect, builder, etc) means you would be expected to spot these defects in advance.
Faults must also be serious (aluminosis, damaged water pipes, damp) and pre-existing (present at the time of sale).
As a second-hand  property buyer in Gran Canaria, you have six months from the date of transfer of ownership of the property to make a claim for hidden defects.
Bear in mind that outside this six month period you can still claim for breach of contract within five years of the transfer of ownership. However, this is only for defects so serious that they render the property unfit for the purpose for which it was purchased.
For a new build property
In the case of a new build property with defects, the buyer can claim against the parties that participated in its construction (promoter, builder, architect, etc)
The time frames for making a claim for defects in a new build property, from the date that the property is transferred by the promoter, are as follows….
Ten years in the case of defects in the foundations, pillars, beams or other  structural elements that could endanger the stability or safety of the building.
Three years in the case of defects of building work or installations that affect the habitability of the building (such as leaks, damp, etc).
One year in the case of defects in the finishing of a buildings (such as windows that won't close, etc).
New build property owners have two years to make a claim once a defect appears within the time frames listed above. This period can be extended via an extrajudicial claim.
Note that if a defect occurs outside the time frames specified above but you signed a contract directly with the promoter, you can make a claim for breach of contract within five years of the purchase date.
Want to know more about your consumer rights in Gran Canaria as a property buyer or owner? Please feel free to contact us for a consultation at any time that is convenient for you. As one of Gran Canaria's largest and most trusted estate agencies, we are here to advise and help you.